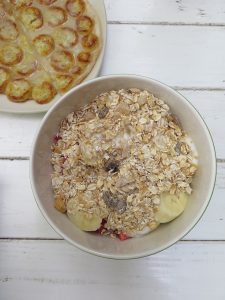 Mass-With-Class Weight-Gain Diet
Meal 1
1 cup orange juice
1 cup oatmeal
1 cup milk
4 scrambled eggs
2 slices whole-grain toast with butter (no margarine; avoid transfats)
Meal 2
8-ounce hamburger
1 large baked potato
Tossed salad with dressing
1 cup milk
Fresh fruit
Meal 3
Weight-gain drink or meal replacement with a banana mixed in nonfat milk
Meal 4
8 ounces cottage cheese with fruit
1 cup yogurt
Meal 5
6 ounces tuna
1 piece fruit
1 slice whole-grain bread
Meal 6
8 ounces chicken
2 cups brown rice
2 slices whole-grain bread
1 cup broccoli or other vegetable
Tossed salad
Fresh fruit
1 cup milk with added protein powder
What to Eat to gain Mass?
Regardless of genetic predispositions, you'll need a positive energy balance to increase your muscular bulk. That simply means you must eat more food than you burn. The effect is so potent that eating an unusual amount of food alone can add lean mass even without exercise, although that isn't a recommended procedure. Studies involving human subjects who overate but didn't exercise showed some surprising changes in body composition. The subjects all showed significant increases in lean mass.
The gains were the result of the body's adjustments to the unaccustomed levels of food. The body compensated by increasing the levels of anabolic hormones, including growth hormone, testosterone, insulin and insulin like growth factor 1 (IGF-1), which led to the subjects' building more muscle, a.k.a. lean mass.
Eating all those calories also blunted the levels of the primary catabolic hormone in the body, cortisol. High levels of cortisol promote the catabolism, or breakdown, of muscle. Cortisol is secreted mainly under high-stress conditions; hence its designation as a stress hormone. But the stress conditions that promote cortisol release more often involve an energy-deficit condition, such as a lack of sufficient calories or carbs. So overeating itself is an anabolic process.
The point here is not to suggest that you must overeat to gain muscle size but that you do have to up your calories because it promotes the secretion of anabolic hormones that will work in tandem with exercise to produce lean mass gains.
A vital consideration in any hulking plan is protein. While it's true that providing additional calories in the form of carbohydrates alone has a protein-sparing action in muscle, maintaining a high level of amino acids from food-protein sources promotes a positive nitrogen balance that sets the stage for muscular gains through increased muscle protein synthesis reactions in muscle. Some call the process the 'anabolic-drive effect."
Why not join our fitness fusion 360 club…